To Get Started
Sign up by emailing the Kingston first office with proof of where you work
Download the app from the App Store or Play Store
Enter your unique activation code into the app
Start Saving in Kingston Today!
Exclusively for Kingston First members, Keep It Kingston is a discount scheme app for Kingston town centre employees entitling you to over 200 offers and discounts in shops, bars, restaurants, entertainment venues, hair salons, car parks, estate agents and more.
Scroll down to find out how to join the scheme and see all the offers currently available.
Please note: we are unable to supply physical cards now. Access is through the app only.
MEMBERS WISHING TO SIGN UP THEIR FULL KINGSTON TEAM
All senior managers or similar, are welcome to sign up their permanent teams by simply completing a spreadsheet with their details. Please contact us on info@kingstonfirst.co.uk and we will advise you of the next steps.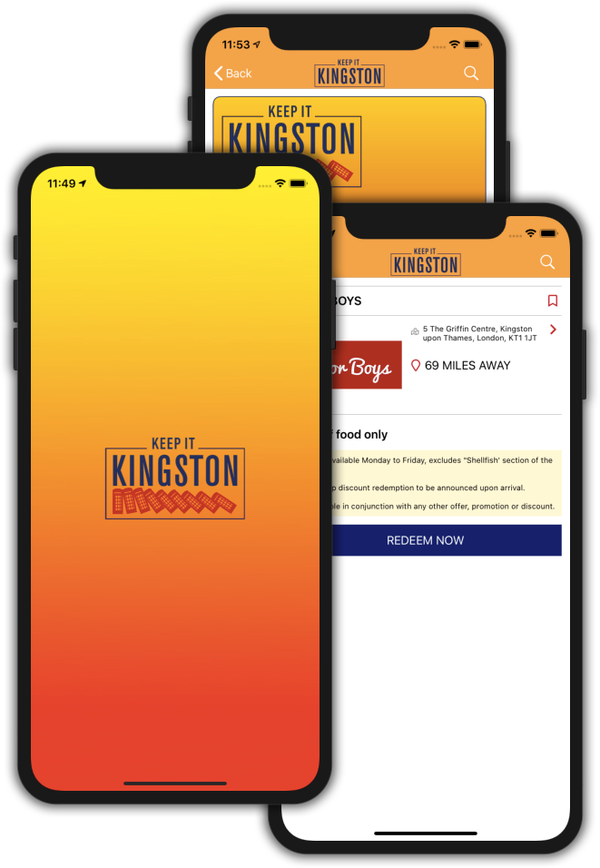 to join the scheme
Exclusively available to all permanent employees of Kingston First Members, the Keep it Kingston scheme is free and entitles you to special offers and discounts in shops, bars, restaurants, entertainment venues and much more, all in Kingston town centre.
TO QUALIFY FOR THE KEEP IT KINGSTON SCHEME:
You must be a permanent employee of a Kingston First member within the Business Improvement District (BID).
Any new starters are only entitled to have access to the scheme upon successful completion of their probationary period (employment contracts will be requested as evidence).
Your permanent place of work must be located within the BID in Kingston town centre.
Anyone employed on a temporary / fixed term / or apprenticeship contract are not eligible for the scheme.
TO GET STARTED AND ACCESS THE SCHEME:
Email info@kingstonfirst.co.uk, confirming your full name and proof of the company you work for (e.g. a recent payslip, scan or photo of a lanyard or a work email address).
Please allow 5 working days for us to process your application and send you your unique activation code.
If you do not have a work email or are unable to scan/attach confirmation of the organisation you work for, please contact the office on 0208 547 1221.
FOR KINGSTON COUNCIL EMPLOYEES:
To qualify for the scheme, you must be directly employed by the Royal Borough of Kingston and your permanent place of work must be any of the Guildhall Complex sites, Kingston Museum or Kingston Library (Fairfield Road).
To sign up, must email us a scanned copy of your RBK payslip, RBK employment contract stating your main place of work and your RBK photo ID to info@kingstonfirst.co.uk
For Shared Services Teams: if you form part of the Kingston and Sutton Shared Services teams and are based at any of the council offices mentioned above, you are entitled to benefit from the Keep It Kingston scheme.  However, in order to ascertain this we will require confirmation of this from your Head of Department. Please kindly ask them to contact us on info@kingstonfirst.co.uk and we will advise them on what the next steps are.  Please do not visit the office directly to sign up for the app, as we will be unable to do so without confirmation of your employment location as above.
FOR METROPOLITAN POLICE EMPLOYEES BASED IN KINGSTON TOWN CENTRE:
To qualify for the scheme, you must be permanently based at either Kingston police station or Eagle House only.
To sign up, you must ask your line manager to send us an email confirming you are based at either of the two locations noted above.
Unfortunately, your Met Police badge is not sufficient to evidence your permanent place of work.